Two Blue Lines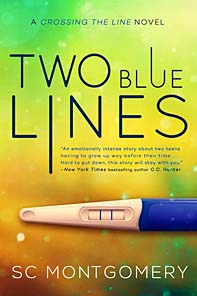 Who wants to be a father at sixteen?
No one.
Especially not Reed Young. But that's the incredibly stupid, incredibly confusing position he's found himself in. He's now forced into a situation where he has to man up and face his responsibilities or walk away from the only girl he's ever loved . . . Melissa Summers. The one who's held his heart since he was thirteen.
But as hormones, stress, and teenage angst yank at them, a bigger secret looms. Not to mention Reed needs his father more than ever, but he's withdrawn in utter disappointment.
What's a sixteen-year-old father-to-be to do?